"Cayman Kai Vacations" chosen best Privately Owned Properties

---

"85 Degrees"

Average Temperature

---

"82 Degrees"

Average Water Temperature

---

"7"

Average number of spectacular sunsets at Rum Point Beach in a week

---
"Click on area of interest below"






















































































"CAYMAN KAI VACATIONS"

"Villas, Rum Point Club Resort,

Island Houses and Condominiums"

in Cayman Kai/Rum Point and North Side of Grand Cayman

click on to print page

---

Island House #11

Grand Cayman, Cayman Islands

Click on to send Email:

Robert Wagner

Phone Number (412) 828-2111

---

Each Island House is decorated to the owner's taste (formal/informal) & some have additional amenities (air conditioning on the first floor, different sizes beds in bedrooms (king, queen, double), Queen pull out sofa in living room, TV in Master Bedroom and/or the Guest Bedroom, Internet Access, bicycles, kayak & equipment, snorkeling equipment).
From the moment you arrive to the minute you depart, enjoy the comforts of home with your own private villa, within an easy 2-minute walk to the famous Rum Point Club.
Kick-off your shoes and relax in your tropical home away from home. Play in the sea, sunbathe by the pool, and end your day with a romantic sunset all at Barefoot Lagoon.
Located on the protected cove in the heart of Cayman Kai, Barefoot Lagoon is an ideal option for small families and couples. The key architectural feature is a two-story screened atrium facing the water with second-floor balconies off each bedroom suite. This allows a gentle breeze to cool the house in winter when A/C is not as critical while keeping the home securely locked below.
This island home spans two floors with the living areas on the first floor and two bedroom suites on the second level. Guests can enjoy an open floor plan with living, dining, and kitchen areas flowing into the home's two-story screened lanai porch.
The screened lanai includes a patio dining area directly off the kitchen. A propane grill sits on the lanai, and a charcoal grill is on the sand outdoors.
Tropical trees and shrubs steps off the backdoor lead to the shared pool and boat dock where you can launch one of the three kayaks (1 tandem, 2 singles) provided by the owner gratis. The pool and dock are just steps from the backdoor. Adventure seekers will want to explore the cove (also known as Bioluminescent Bay) at night to watch the waters glow under the stars. 2 bicycles are also provided gratis to explore the neighborhood.
Back inside, the first floor also includes a small home office, a fully equipped kitchen with modern appliances, a laundry room, and a half bathroom.
Sleeping Arrangements

(Sleeps 6 guests max)
Master Suite: upper-level, waterfront views, king bed, walk-out screened balcony, ensuite bath with shower/tub combo. Air-conditioned with private remote control.

Guest Suite: upper-level, waterfront views, two double beds, TV, walk-out screened balcony, ensuite bath with shower/tub combo. Air-conditioned with private remote control.

Additional Bedding: rollaway bed provided for use in the home office.
Located just a short walk to Rum Point Beach, guests staying at Barefoot Lagoon will love being close to all the best attractions Cayman Kai has to offer.
*Note: A Cleaning Fee is included due to enhanced cleaning, sanitation, and inspection protocols.
**Additional kayaks and stand-up paddleboards (SUPs) available for discounted rental. Signed waiver required.
Amenities
Beach Notes
The Island Houses enjoy a smooth sandy beach with no rocks. These 9 clusters of 2 villas are staggered along the water's edge at the top of the Cayman Kai Cove...with quiet shallow water, a shared freshwater pool and dock for our guests to use for kayaking or for private charter collection. The water here is shallow with a soft bottom and not really suitable for snorkeling or swimming when the best water is directly across the street at the famous Rum Point Club (open to the public).
The surrounding area offers a wide variety of activities with the Rum Point Beach Club located within 200 yards. Rum Point offers a spectacular white sandy beach with vibrant snorkeling, plus shady hammock spots, watersports, two restaurants and a beach bar. Chaises are plentiful and first-come, first-served.
The big draw to this area is the proximity to the Rum Point Club, a public beach club that offers a fantastic barefoot beach, many water sports, a restaurant bar and grill, a gift shop and pick-up beach volleyball games.
It's from the Rum Point pier that the Red Sail Cayman's 65' catamaran departs to stingray sandbar for snorkeling trips. Also near Rum Point is the Kaibo Yacht Club restaurant, bar and marina. Just a great neighborhood dotted with million-dollar oceanfront villas.
Hop on the Cayman ferry at the Kaibo Marina, and sail across the North Sound to Camana Bay for a day trip of shopping, dining, and much, much more. There's also easy access from Camana Bay to Seven Mile Beach and all the restaurants, bars and activities in the area.
General Grand Cayman Beach Notes
All beaches in Grand Cayman are technically "public" since the Queen owns up to the high water mark and the shoreline quality behind your property may vary seasonally. Be advised that the beach or water entry behind your property may vary slightly from the images on our website because of the weather. The next-door beach is also always available for your use.
Ocean Debris & Sargassum Seaweed
Beaches in Grand Cayman may also experience floating ocean debris and sargassum weed seasonally. Sargassum is a generally harmless floating seaweed that has increased in frequency in recent years. Although sargassum is an unsightly nuisance, it is largely seasonal in summer. Our owners do make efforts to remove heavy sargassum and will have the beach raked prior to your arrival.
Should sargassum weed be extremely heavy behind your property, we will reach out to the owner for alternative solutions which may include a partial refund or relocation. We try our best to work around mother nature.
---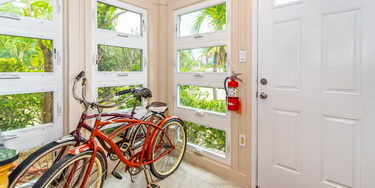 | | |
| --- | --- |
| | |
---

from Guests of
Click on "Traveler Reviews" to view...
---
The Pool for the Guests of the Island Houses
Location of the pool to Barefoot Lagoon
| | |
| --- | --- |
| | |

The pool is for the use of Island House guests only!

You can swim in your 20' x 40' private pool surrounded by palm trees with their branches gently swaying in the breeze.

For those who would rather lounge by the pool than swim, there is plenty of desk furniture

provided with a mixture of chaise lounge chairs, benches and tables.

---

For a full Explanation of "Bioluminescent Cove"

click on the above picture or this link

View of Sand Pointe Cove

Get ready for a fabulous nocturnal spectacle one of only 11 bioluminescent bays in the world when kayaking at night!!

A microorganism lights up when you disturb the water it's truly a sight to see and you can experience this right outside your door.

When the lights go down, the micro-organisms in the bioluminescent cove put on a fabulous show as guests tour the cove. As you paddle through the water, the micro-organisms illuminate leaving a shiny silvery streak of water. Your paddle will take the form of a light saber as you slice through the night water.

The dock on the rare bioluminescent cove, right out your lanai.
---
Click on the picture to see full details on Rum Point Beach

The famous Rum Point Beach is just across the road from the Island House.
A few steps out your front door will find you at the renowned Rum Point Beach, the most picturesque beach in Grand Cayman. The shallow and clear waters and pink/white sand of Rum Point Beach make it ideal for swimming and offers some of the finest snorkeling in the Caribbean. Rum Point is located in a protected marine park, so grab your snorkeling gear and take in the vibrant views and abundant sea life along the reef just offshore. Adults and children alike will enjoy relaxing and playing in the clear, turquoise, shallow waters. Also at Rum Point, you will find the Red Sail Sports activity center, where you can book Sting Ray City trips as well as other excursions. A host of beach toys are available for rent, including jet skis, catamaran sailboat, banana boat, snorkeling gear and more. The Wreck Bar and Rum Point Restaurant provide some of the best food and drinks on the island including the famous Mudslide, Cuban sandwich, jerk pork plate, local dishes and fine dining in the evenings. Rum Point Beach offers changing rooms, showers, hammocks, a volleyball net, picnic tables and plenty of shade under a canopy of magnificent Casuarinas trees and coconut palms.
Click on this link to play Video

(It might take a few seconds to play)

Enter Rum Point Beach by taking a few steps from your front door on a sand path. As you walk toward the beach, cool trade winds quickly erase all thoughts of your job, commute and bad weather at home. Australian pines with island parrots and tropical birds sitting on feathery branches shade the shore.

Swim with the Stingrays at Stingray City
Amenities, Activities, Restaurants

and Other Services near to the Island Houses

| | | |
| --- | --- | --- |
| Convenient store-5 miles away | "Upstairs Restaurant" at The Kaibo | "The Kaibo Beach Bar & Grill |
| "Rum Point Restaurant" | Wreck Bar & Grill at Rum Point Beach | "Over the Edge Restaurant |
| "Driftwood Sport Bar" | Other Restaurants within a short drive | "The Famous "Rum Point Beach" |
| Red Sport Sails Water Facility at Rum Point | Scuba Diving | Jet-Skiing |
| Paddle Boats at Rum Point Beach | Water Skiing | Boating |
| Swimming at Rum Point Beach | Wading and Swimming in the Lagoon | Snorkeling at Rum Point Beach |
| At types of Fishing | Sailing | Gift Shop at Rum Point Beach |
| Walking - lovely area to walk in | Bicycling | Beach Combing |
| Tennis | Cayman Kayaks at Rum Point Beach | Local Craft Stores |

---

Rental Rates

CERTAIN MAJOR VACATION RENTAL WEBSITES

ARE NOW CHARGING A "BOOKING" OR "SERVICE FEE"

OVER THE OWNER RENTAL RATES TO BOOK ON THEIR SITES

CAYMAN KAI VACATIONS

LISTED PRICES FOR ALL PROPERTIES DO NOT INCLUDE ANY "BOOKING" OR "SERVICES FEES"

THIS CAN SAVE YOU FROM 4% TO 15%

| | | | | | |
| --- | --- | --- | --- | --- | --- |
| Web Site | CAYMAN KAI VACATIONS | | | | |
| BOOKING/SERVICE FEE | 0% | 4% to 9% | 4% to 9% | 5% to 15% | 4% to 9% |

| Begins | Ends | Daily |
| --- | --- | --- |
| Aug 21, 2021 | Nov 05, 2021 | $275 |
| Nov 06, 2021 | Nov 19, 2021 | $305 |
| Nov 20, 2021 | Nov 27, 2021 | $395 |
| Nov 28, 2021 | Dec 17, 2021 | $325 |
| Dec 18, 2021 | Dec 25, 2021 | $475 |
| Dec 26, 2021 | Jan 04, 2022 | $550 |
| Jan 05, 2022 | Mar 05, 2022 | $375 |
| Mar 06, 2022 | Apr 15, 2022 | $395 |
| Apr 16, 2022 | May 27, 2022 | $295 |
| May 28, 2022 | Aug 19, 2022 | $315 |
| Aug 20, 2022 | Nov 04, 2022 | $275 |
| Nov 05, 2022 | Nov 18, 2022 | $305 |
| Nov 19, 2022 | Nov 26, 2022 | $395 |
| Nov 27, 2022 | Dec 16, 2022 | $325 |
| Dec 17, 2022 | Dec 25, 2022 | $495 |
| Dec 26, 2022 | Jan 02, 2023 | $550 |
| Jan 03, 2023 | Mar 03, 2023 | $375 |
| Mar 04, 2023 | Apr 14, 2023 | $395 |
| Apr 15, 2023 | May 26, 2023 | $295 |
| May 27, 2023 | Aug 25, 2023 | $315 |

13% Occupancy Tax added to all rates.

10% Guest Service Fee includes your Silver Thatch Membership.

Guest Service Fee is capped at 10 days for extended stays.

Departure Cleaning Fee added to all reservations.

Owner requires a $500 refundable excess cleaning and damage deposit and $500 kayak damage deposit.

We accept Visa, MC, Discover, and Bank Wire for payments.

Booking Rules

5 nights minimum stay required, but seasonally the owner may allow 3 night stays with a higher departure cleaning fee

6 nights minimum required over Thanksgiving week.

7 nights minimum required over Christmas and New Year's week.

Christmas & New Year's dates are split into two rental periods. Please inquire with your travel dates prior to booking.

Must be 25 years or older to book and must occupy the property during the entire stay.

Flexible Cancellation Options

Travel planning can be unpredictable right now with reopening protocols subject to change by the government. That's why we have expanded our cancellation policy to provide you peace of mind should the pandemic upend your travel plans.

Within 60 days of your arrival, should there be no reasonable transport options to Grand Cayman or an unforeseen quarantine is required, you will have two options:

Defer your trip up to 12 months from the planned arrival date with full payment credited towards a subsequent similar stay, or

Request to cancel for a full refund of monies paid less a 3.50% cancellation fee.

Book with confidences.

Villa Cleaning & Sanitation

We're committed to the health and safety of all our guests and have adopted enhanced cleaning safeguards to suppress the spread of COVID-19. All villas are cleaned and sanitized prior to each guest's arrival using health agency-approved cleaners and disinfectants. We also ask our owners to provide a starter supply of extra cleaning products.

Additional housekeeping services can be purchased after booking in 3-hour time blocks. Scheduling may be coordinated with your property manager upon arrival.

Booking Rules, Cancellation Policy and Villa Cleaning Sanitation apply to all new booking after 10/1/2021

Prices are subject to change without notice.

---

---
---
"Barefoot Lagoon" is licensed annually by the Hotels Licensing Board, Cayman Island's Tourist Department to operate as Tourist Accommodation in the Cayman Islands in accordance with the provisions of the Tourism Law of 1974 (Revisions in 1995, 1996 & 2001) the Cayman Islands.
Specializing in offering

"Villas, Island Houses, Town Houses,

Condominiums and Single Family Houses"

in Cayman Kai/Rum Point area and the North Side of Grand Cayman

Vacation Rentals, Rental Management & Investment Properties

in the Cayman Kai/Rum Point & North Side area Grand Cayman, Cayman Islands

You are the
Visitor to this site
Copyright © 2004-2022

Cayman Kai Vacations

All Rights Reserved

Note that Copyright applies to the entirety of the content of this web site.

Site Design & Maintenance by

Web Master -

Cayman Kai Vacations
---
Caribbean Vacation Grand Cayman Island Houses Rentals, Cayman Kai, Rum Point, Grand Cayman, Cayman Islands