"Cayman Kai Vacations" chosen best Privately Owned Properties

---

"85 Degrees"

Average Temperature

---

"82 Degrees"

Average Water Temperature

---

"7"

Average number of spectacular sunsets at Rum Point Beach in a week

---
"Click on area of interest below"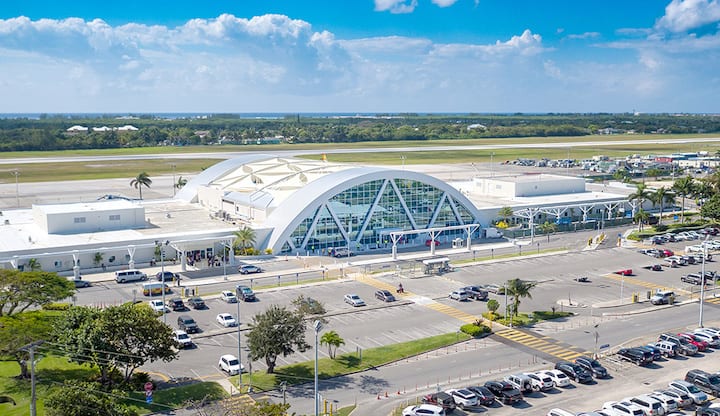 Grand Cayman New Airport (GCM)
Click to view more: https://vimeo.com/324250641/324250641
CLick here to view detail about the new airport: https://www.caymanairports.com/ceos-welcome/airport-expansion-redevelopment/
Although all three Cayman Islands have landing strips of some kind,

most air traffic in and out of the area goes through the Grand Cayman airport, called
"Owen Roberts International Airport" (GCM)
---
Click on link below to view Arrivals and Departure Information
---
Many major carriers have direct daily or weekly flights to the Grand Cayman airport, including American Airlines, Delta, Spirit, US Airways, WestJet and Cayman Airways connects to the Grand Cayman airport with cities in the southern US several times per week. From Canada, Air Canada offers year-round service non-stop to Grand Cayman, in addition to daily connections through the U.S. as well, all major airlines offering easy connections to the Cayman Islands from Canada as listed below. From Europe, British Airways is the easiest way to reach Grand Cayman airport, which usually makes a stop in the Bahamas en route to the Grand Cayman airport.

As there is no ferry service connecting the three Cayman Islands, flying is a necessity if you want to travel between them; Cayman carriers, as a result, have arranged frequent and efficient island-hopper trips between the Grand Cayman airport and its counterparts. From the Grand Cayman airport, air service to Cayman Brac and Little Cayman is offered by Cayman Airways as well as Island Air. Cayman Airways leaves the Grand Cayman airport twice daily in the morning and evening, while Island Air makes its way from the Grand Cayman airport in the morning and afternoon.
The information listed below can change at any time and is subject to the individual airlines.
For more information about the Grand Cayman Airport contact:
Owen Roberts International Airport - 345-949-5252 or 345-949-7811
Owen Roberts International Airport (GCM)

is serviced by the following airlines:

The following airlines currently offer services to/from Owen Roberts International Airport, Grand Cayman. Some operate on a seasonal basis, discontinuing service in the slower summer months (destinations served are in parentheses):
These airlines have low airfares from most US cities to

Miami, Tampa, Ft. Lauderdale, and Houston
"Click on logo to go directly to their web site"
---
Specializing in offering

"Villas, Island Houses, Town Houses,

Condominiums and Single Family Houses"

in Cayman Kai/Rum Point area and the North Side of Grand Cayman

Vacation Rentals, Rental Management & Investment Properties

in the Cayman Kai/Rum Point & North Side area Grand Cayman, Cayman Islands

You are the
Visitor to this site
Copyright © 2004-2022

Cayman Kai Vacations

All Rights Reserved

Note that Copyright applies to the entirety of the content of this web site.

Site Design & Maintenance by

Web Master -

Cayman Kai Vacations
---
Caribbean Vacation Grand Cayman Island Houses Rentals, Cayman Kai, Rum Point, Grand Cayman, Cayman Islands