"Cayman Kai Vacations" chosen best Privately Owned Properties

---
"Click on area of interest below"
"Cayman Kai Vacations"

offering in Cayman Kai/Rum Point and the North Side of Grand Cayman, Cayman Islands

Specializing in offering the

Island Houses of Cayman Kai

Vacation Rentals, Rental Management, & Investment Properties

in the Cayman Kai/Rum Point Grand Cayman, Cayman Islands

Specializing in offering

Villa's, Condominiums

Vacation Rentals, Rental Management & Investment Properties

in the Cayman Kai/Rum Point & North Side area Grand Cayman, Cayman Islands

click on to print page

---
Boatswain's Beach

Black Pearl Skating & Surfing

Does the Atlantis Submarine sound nice?
SNUBA and not Scuba

Take a Glass-Bottom boat to Stingray City
Cardinal D's Park is for the kids
Take a cruise back in time with The Jolly Roger
Local Traditions
---

Boatswain's Beach, the new home of the world famous Cayman Turtle Farm, is Cayman largest and most eagerly anticipated tourist attraction. The Park offers visitors a unique opportunity to swim and snorkel with fish and other marine life, peer into a predator tank and come nose to nose with sharks and eels, stroll down a historic Caymanian street complete with porch side artisans or view the free flight bird aviary and walk the nature trail.
Quench your thirst for adventure! Go ahead – take the plunge!
| | |
| --- | --- |
| This video might take a few seconds to load | This video might take a few seconds to load |
New for 2006, Cayman's largest and most eagerly anticipated tourist attraction, Boatswain's Beach is now open. Pronounced 'Bo-suns' Beach, this one-of-a-kind, 23-acre adventure marine park promises to become one of the most exciting attractions in the Caribbean.
The park allows visitors to experience the rich history of Caymanian life in a fun and safe environment while providing opportunities to observe and interact with native flora and fauna. In keeping with its cultural heritage, Boatswain's Beach is the new home of the world renowned Cayman Turtle Farm.
The only one of its kind in the world, the turtle farm is home to over 11,000 Green Sea Turtles, ranging in size from six ounces to six hundred pounds each. Visitors can tour an actual working farm, which is both educational and entertaining, and turtles are available for guests to hold for an amazing and unique photo opportunity.
The farm is open seven days a week from 8:30 am to 4:30 pm and is wheelchair accessible. Entry for adults is US$60.00 and US$25.00 for children 2-12; children under 2 have free entry in to the park (prices are subject to change). The farm is located on Northwest Point Road in West Bay, just eight miles from George Town.
For more details on Boatswain's Beach visit www.boatswainsbeach.ky
---
---

Welcome to Cayman Crazy Golfing, Grand Cayman, Cayman Islands!

---

Click on the above picture to go to their web site
Black Pearl Skate & Surf is one of the premiere destination for actions sports enthusiasts. Boasting an astonishing 62,000 square foot skate park and the worlds largest free standing wave they offer entertainment for the whole family.

Designed by renowned Skate Park designer Michael McIntyre of Site Design Group, the Black Pearl

Skate Park encompasses 52,000 sq. feet of concrete bowls and half and quarter pipes. It is the largest outdoor concrete park in the world featuring three main courses — expert, intermediate and beginner — with both a flow and street course for each level. Powerful lighting around the park ensures a safe environment for night skating, and supervision at all times is guaranteed, making it a secure and fun place for kids. Skateboards and mandatory protective gear are available for rent and for sale at the Black Pearl Board Shop.

Searching and waiting for the perfect wave in the Cayman Islands is no longer a problem. Surfers yearning for waves in Grand Cayman can soon dust off their boards and take part in the breathtaking experience of riding under and over magical blue curls of water. Introducing the Waveloch Surf Machine, a self-contained standing wave generated by a continuous 16,000 gallon per minute (GPM) flow of water. Water flow varies from 10,000 gallons per minute to 150,000 gallons per minute. The machine uses fresh filtered water and measures 2,624 sq. ft. and 1,280 sq. ft. of riding surface area.
...Just where exactly can you find this monster of fun? Only at the Black Pearl Surf Park in Cayman Grand Harbour. This waveloch machine is the only one of its kind in the world with 11 foot waves and is one foot higher than Waveloch's machine in South Africa.
| | |
| --- | --- |
| This video might take a few seconds to load | This video might take a few seconds to load |
...For those who just can't fathom getting on a board and riding the wave, a viewing area is provided to watch the daring

souls who will try repeatedly, and often in vain, to stay on the wave. It may sound dangerous, but it isn't. It's a thrilling experience that combines balance, strength, skill and poise to create an adrenaline-pumping experience the rider won't soon forget. The Black Pearl Surf Park provides the necessary equipment and any instructional sessions needed to attempt this surfing phenomenon. Lessons are available for all levels and children 4 years old and up can take the plunge on this wave.
Cayman Grand Harbour is a 192-acre master planned residential resort community in the Cayman Islands that, once completed, will be one of the largest developments of its kind on the island. The location offers direct canal access to the North Sound as well as a link to the Crewe Road bypass. With the Shoppes of Grand Harbour and the Black Pearl Skate & Surf Park now complete, plans are being made for future development which will include marinas, a corporate village, a condominium development, a theater complex, restaurants and a range of single-family residential estate housing.
---
Welcome to Wowballs

Click on the above picture to go to their web site
WowBalls® is great for the audience which it always creates. Kids get a chance to exercise like never before, while performing one of the greatest, healthy work-outs which even the audience takes part in. The laughter and fun is contagious. The "giggle effect" is everywhere the Wow Ball is found.
WOWBALLS CARIBBEAN
P.O. BOX 30700 SMB
---

Click on the above picture to go to their web site
| | | |
| --- | --- | --- |
| This video might take a few seconds to load | This video might take a few seconds to load | This video might take a few seconds to load |
Why not, it should! Which kid doesn't want to get up close and personal to hundreds of rainbow colored tropical fish without having to step foot in water. If lucky, one may get to see a reef shark, a hawksbill turtle, a moray eel or a pair of spotted eagle rays. Who knows what one may see swimming next to them! What better way for a kid to really enjoy the Cayman Islands than this underwater experience of a lifetime.
Atlantis Adventures Grand Cayman's Island Highlights & Stingray City Observatory Tour provides adventure travelers the opportunity to enjoy the best of everything when visiting the majestic Caribbean island. This land and sea tour features the premier highlights of Grand Cayman: Stingray City, the Cayman Turtle Farm and Hell! Experience the most popular land sights in Cayman and visit Stingray City. This is Cayman's only excursion that allows you to view the world-famous stingrays in their own habitat WITHOUT GETTING WET.
---
Click to go to their web site
SNUBA and not Scuba
This cross between scuba diving and snorkeling is a wonderful experience for kids and adults alike. Because you are tied to an inflatable raft that holds your oxygen tank you can enjoy the same experiences as scuba diving. Any person can do this because no certification is required. For the best experience, don't forget to bring some food along to feed the fish. Anything from squid to breakfast cereal will do.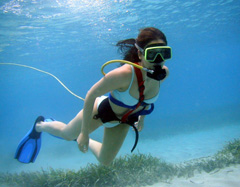 Snuba® was created for those who enjoy the simplicity of snorkeling and would like to experience the wonders of breathing underwater. Snuba is an unique, patented shallow water diving system, bridging the gap between snorkeling and scuba diving.

Snuba® is safe and easy and does not require certification. Even if you have never snorkeled or can't swim, Snuba diving is available for you. Snuba is easily accessible to couples, families, children eight years and older, and seniors. Our Snuba Doo program allows children as young as 4 years of age to participate. It is a great way for a certified diver to introduce non-certified partners to the underwater breathing experience.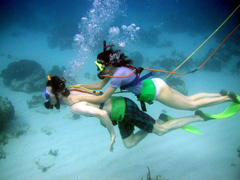 Snuba divers breathe underwater by means of a 20 foot air line which is connected to a standard scuba tank. The tank is mounted on a raft on the surface that follows your every movement. The airline allows you to tour underwater near the bottom, at mid-water or on the surface depending on your level of comfort. There is no heavy diving gear. Every Snuba tour is guided by a diving professional. Your guide will familiarize you with the Snuba equipment you will be using and briefly describe what you can expect in the water.

You will start in shallow water and take whatever time necessary to get comfortable breathing underwater. Once comfortable, you are then taken on a guided underwater tour. During the dive you are never more than 20 feet from the security of the raft floating on the surface.
You will get the feeling that you are swimming in an aquarium surrounded by tropical fish. The reefs we Snuba dive in have beautiful and abundant marine life. Dive into the underwater world and learn more about the wonderful world of Marine Life

We invite you to join us in one of the world's fastest growing resort activities.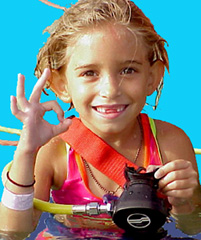 Snuba Doo allows kids from 4 through 7 years of age to join their older siblings, parents or family members on a shared Snuba experience. Kids wear a specially designed floatation vest, which provides buoyancy to support the participant on the surface. A standard regulator with smaller, kid's sized, mouthpiece provides a supply of air connected the air cylinder located on the Snuba raft.
The Snuba Doo airline is 10 feet in length, which is the furthest distance the Snuba Doo kid's can be from the Snuba raft. Safer than snorkeling, Snuba Doo kids can cruise along above their family and friends while power snorkeling from the surface. If they get tired they can lay on the Snuba raft. They never have to worry about sucking in salt water through a Snorkel and most importantly, a Snuba Guide will be with the group the entire time.
Snuba Doo is a fantastic innovation to promote family entertainment.
---
Red Sail Sports has a complete water facility at Rum Point Beach

which is about 150 feet from "Barefoot Lagoon" Island House.
We have activities for kids of all ages, so bring your entire family to play with us!
---
Nobody does it better than Native Way! We offer visitors an authentic Caymanian adventure, with experienced native crews, well-equipped and maintained boats, excellent service, and genuine island hospitality. Unlike many tour boat companies, we never try to crowd people onto our boats -- we want you to be able to relax, and really enjoy the adventure! The many letters we receive from former guests of Native Way Watersports tours say it best.
---
At Cardinal D's Park, just off Eastern Avenue (George Town), you'll find a bird sanctuary with over sixty species of exotic birds, iguanas, agoutis, ducks, emus, miniature ponies and turtles. There's also a snack bar and souvenir shop. Founded by two Caymanians in 1985, the park is ideal for kids, who can feed the animals, and nature lovers. Open seven days a week, the park can be reached at (345) 949-8855

---
The newly constructed Stingray Bowling Centre offers a fun-filled atmosphere with pure enjoyment for kids as well as adults alike. Children are sure to enjoy themselves with Cayman's newest sport. This 10-lane centre boasts user-friendly Qubica Automatic Scoring, a computerized scoring system that takes the guesswork out of score keeping. Kids are sure to enjoy glow bowling to the latest dance music, bowling birthday parties and learn-to-bowl sessions. Call 345-945-4444. Hours: 11:30am - closing (seven days a week)
---
Jolly Roger Cruises Grand Cayman Island
This experience is sure to bring the kid out of everyone. Be a part of the action and take a ride aboard this authentic replica of a 17th century Spanish galleon fully equipped with cannons that fire, walking the plank, and sword fighting. Remember to bring your swim gear. Call (345) 949-8534.
---
Opened on Grand Cayman in 2003 and is an impressive and calming area to view hundreds of varieties of our vibrantly colored friends. http://www.thebutterflyfarm.com/
---
The new Sunrise Family Golf Centre off Hirst Road in Newlands. This new, moderately priced and family oriented golf centre is in Bodden Town. Green fees at US$21 (junior, US$10). It's a nine hole Par 3 course, with all grass tees maintained to championship course standards. The centre includes a full-length driving range, practice chipping and putting green, golf shop, clubhouse, and open-air patio. Rental clubs, pull carts and instruction by certified PGA Professional are also available.
Hours: 7:30am - 6:00pm (seven days a week)
Tel: (345) 947-GOLF
Fax: (345) 946-0508
E-mail: ambc@candw.ky
Website: (under construction)
---

There are other halls, but Attic Billiard Lounge is the only one we have any information on.

They're on West Bay Road, at (345) 949-7665
---


There are at least four independent fitness centers on Grand Cayman, including World Gym Fitness Centre, at (345) 949-5132; Fitness Connection & Aquatic Centre, at (345) 949-8485; New Image Health Club, at (345) 949-7016; and One to One Personal Fitness, at (345) 949-9440. And, there's now Kings Sport Complex that's opened in a location more conveniently accessible from Bodden Town -- just past the Grand Harbor (Hurley's) shopping centre. They can be reached at (345) 946-5464.
---


The Mastic Trail, part of the Mastic Reserve, is two miles long, takes about 2½ to 3 hours, and is ideal for hiking in Cayman's wild interior. The woodland, evolved undisturbed for the last 2 million years, offers a rich abundance of birds, rare trees and animals, with guided walks available daily. Call Geddes Hislop of Silver Thatch Excursions at (345) 945-6588, or e-mail him at silvert@hotmail.com for more information about a guided tour. Geddes has a degree in Wildlife Biology, and really knows his stuff. For joggers, Beach Bay Road, near Turtle Nest Inn, is a route followed regularly by those wanting a good surface with little traffic. And, of course, there's the beach almost all around Grand Cayman, with public access guaranteed everywhere.
---
Beautiful, professionally trained horses available for morning and sunset horseback riding, at 9:00am or 4:30pm, on trails or on the beach. Nicki's Beach Rides offers one and a half-hour rides at US$65, per person -- less 10% discount for Inn guests, and Nicki herself guides all rides. Six riders maximum, novice or experienced, minimum age seven years old, and basic instruction is given. Phone Nicki beforehand and meet her in the Holiday Inn lobby along West Bay Road, although pick-up and drop-off elsewhere can be arranged. Visa and MasterCard accepted.
Tel: (345) 916-3530 or (345) 945-5839
Fax: none
E-mail: nikiride@candw.ky
---
Baby-sitting, child care, care of the elderly, and equipment rental, for hotel and condo guests, in the comfort of your tourist facility by a trained staff of mothers with previous experience in the field. Call (345) 949-1509, or fax to (345) 949-0213.
---
Just send me a Email or give me a Call!

Need more information or have questions

Robert Wagner

Phone Number (412) 828-2111

---

Cayman Kai Vacations

Specializing in offering

"The Island Houses of Cayman Kai",

Villas & Condominiums

Vacation Rentals, Rental Management & Investment Properties

in the Cayman Kai/Rum Point & North Side area Grand Cayman, Cayman Islands

Click on to print page

Click on to return to
This site was last updates: 02/18/20 10:57 PM
Caribbean Vacation Grand Cayman Island Houses Rentals, Cayman Kai, Rum Point, Grand Cayman, Cayman Islands